MTCRE – 5-6 Nov 2020 – Dublin, Ireland (Online)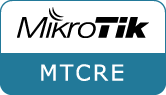 MTCRE – MikroTik Certified Routing Engineer
Trainer: Alfredo Giordano.
5th-6th November 2020. Online course with exam to be held in Dublin 2.
General Information
MikroTik Certified Routing Engineer is an advanced certification that covers different aspects of routing, relevant to larger networks and ISPs, with a focus on OSPF with single and multiple areas, policy routing, and advance use of static routing. It also covers the configuration of multi-homed devices, for load balancing and failover.
With a MTCRE certification it is possible to access the third level certification of MikroTik Certified Inter Network Engineer (MTCINE). Additional information is available here.
Date and Time: 5th – 6th November 09.00-17.30.
Place: Online training. See note below on Exam.
Cost: €675 + VAT. Discount for booking more than one place.
Group limited to 10 people.
Course Prerequisites: MTCNA certification (if you do not have a current MTCNA cert you may still attend the training, but you will not be permitted to sit the certification exam), a good knowledge of the TCP/IP protocol, necessary tools (see below).
Place is not confirmed until full payment in advance or Deposit of €200 is paid
Class can be cancelled with a full refund up to 2 weeks before the date of the event.
Important Covid19 Information
N.B. Please note due to Level 5 Covid-19 restrictions in Ireland, we will not be able to hold the certification exam immediately after the course as would typically happen. We will schedule the exam for all participants once the Ireland returns to Level 3 or better.
Course Description
The course offers a wide coverage of the implementation of the major routing protocols, including static routing, available in MikroTik RouterOS. The training is split up in the following modules:
Static Routing
OSPF
Introduction to policy routing
Introduction to VLAN
VPN and Tunnelling
Certification Test
The complete official program of the course is available here.
Course Agenda:
Thursday 5th:
Friday 6th
08:45 Registration
09:15 Training
10:50 Virtual Break
11:10 Training
13:00 Lunch
14:00 Training
15:15 Virtual Break
15:30 Training
17:00 End of the day
09:15 Training
10:50 Virtual Break
11:10 Training
13:00 Lunch
14:00 Training
15:15 Virtual Break
15:30 Training
17:00 End of the day
The course includes:
Training material in pdf format
MTCRE certification
L4 RouterOS License (if approved)
Use of a MikroTik Router for laboratory tests.
Necessary tools
Laptop running Windows (or any System that can run Winbox)
A MikroTik Routerboard (one per site is sufficient if multiple students are attending from the one company) to connect to the laboratory via a tunnel. One interface will be connected to your Internet service and a second will be used to create a tunnel to the lab server.
3 * Cat5e Ethernet cables of at least 1.5m
Power strip
Examination
MTCRE examination includes question on NAT, VPN and Routing as well as generic MikroTik questions
The certification exam will be held in English but the use of online translators will be allowed.
The minimum score required to pass is 60% if you get a score of 50% to 60% you will be granted of a second chance.
The MTCRE certificate will be immediately available in your MikroTik account
Location
Course will be held online. Participants will be given instructions in advance to access the online training.

For further information and registration for the course please contact: Tel.: +353-1-4826000
Mail: info@tiktrain.com