Why TikTrain? We are a group of professionals working with MikroTik since 2004. After deploying routerboard solutions over hundreds of networks of different type and size and we are committed to MikroTik consulting and training. Thanks to our experience combined with practic we are to provide a comprehensive certification experience.
All courses are taught certified MikroTik trainers and include study material in the corresponding language. Mikrotik offers the following certifications:
MTCNA, MTCRE, MTCWE, MTCTCE, MTCUME,MTCINE.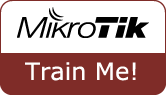 Any course is related to a particular area o expertise within the MikroTik career.
More informations and detailed training program.